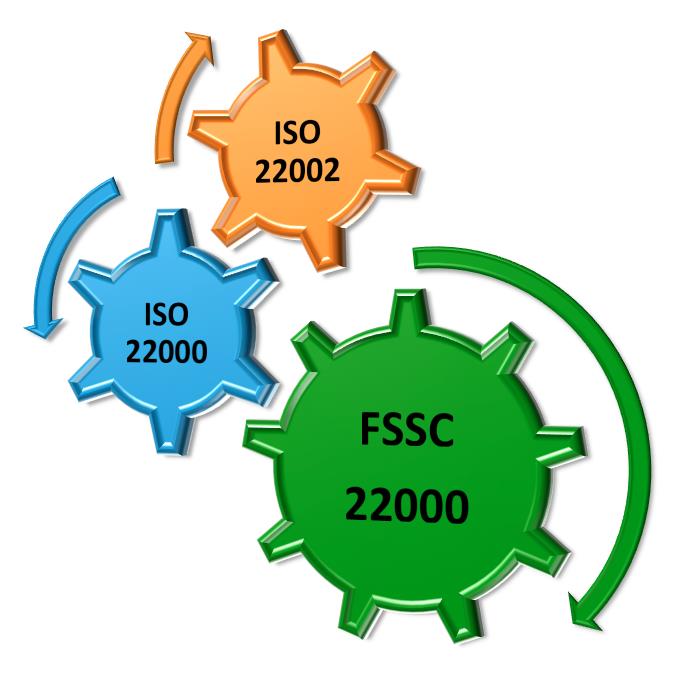 What is FSSC 22000?
FSSC 22000: A Food Safety Management System (FSMS) Certification Scheme
FSSC 22000 defines requirements for integrated processes that work together to control and minimize food safety hazards.
Once a facility implements processes that address all the requirements of FSSC 22000, they can be certified to FSSC 22000. The certification program is managed by the Foundation for Food Safety Certification
FSSC 22000 Basics
The FSSC System was designed to provide companies in the food industry with an ISO based FSMS certification that is recognized by the Global Food Safety Initiative (GFSI). Recognition by GFSI provides worldwide recognition and acceptance by food manufacturers and retailers. More information on GFSI can be found at the website: www.mygfsi.com
The FSSC 22000 system uses a management systems approach to food safety, using ISO 22000 for the management system requirements and ISO Technical Standards or Publicly Available Specifications (PAS) for prerequisite program requirements. The food safety management system integrates nicely with other management systems such as ISO 9001 and ISO 14001.
The certification audit and surveillance audits also take a management systems approach, with a process based audit instead of a checklist based audit. The audits determine if your FSMS meets the requirements of the standard, if it does your organization is recommended for certification. If it does not you will need to make improvements to the system before achieving certification. There is no score or grade from the audit.
FSSC 22000 Requirements
The certification scheme and requirements are defined in three documents:
FSSC 22000: Part 1 Requirements for organizations that require certification This document is available for download at no charge at www.fssc22000.com
ISO 22000: Food safety management systems – Requirements for any organization in the food chain This document is available for purchase and download at www.iso.org or www.techstreet.com
Requirements for Prerequisite Programs
The document you use for prerequisite programs will depend on your scope.
Food Processors use ISO/TS 22002-1: Prerequisite programs on food safety – Part 1: Food Manufacturing. Available from www.iso.org or www.techstreet.com
Food Packaging Manufacturers use the ISO/TS 22002-4 – Prerequisite programs and design requirements for food safety in the manufacture and provision of food packaging. Available from shop.bsigroup.com
Manufacturers or Providers of Animal Food, Feed or Ingredients use the PAS 222 – Prerequisite programs for the manufacture of food and feed for animals. Available from shop.bsigroup.com
What is FSSC 22000 used for?
FSSC 22000 is to be used for auditing and certification of food safety systems of organizations in the food chain which process or manufacture:
Perishable animal products (i.e. meat, poultry, eggs, dairy and fish products)
Perishable vegetal products (i.e. fresh fruits and fresh juices, preserved fruits, fresh vegetables, preserved vegetables)
Products with long shelf life at ambient temperature (i.e. canned products, biscuits, snacks, oil, drinking water, beverages, pasta, flour, sugar, salt)
Biochemical (i.e. vitamins, additives and biocultures) but excluding technical and technological aids
It is applicable to all organizations in the food chain, regardless of size and complexity, profit-making or not, public or private.